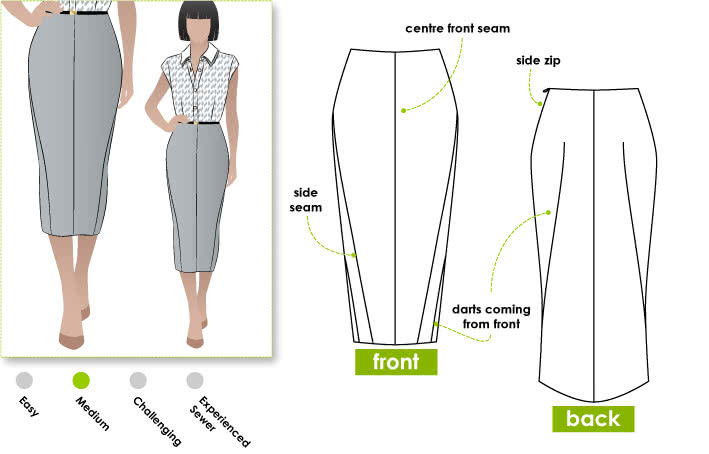 Sleek yet fun; classic yet modern; stylish in all the right ways; it is the pencil skirt. Ubiquitous in the 1950's this skirt has it all. The beautiful thing about this skirt is that it looks good on nearly every body type; the catch is picking the right cut. Sewing your own skirt will allow you the freedom to customize your garment for the perfect fit. Here is your all inclusive guide to picking the perfect pencil skirt pattern for your body.
Thin waist with narrow hips:
This body type is the most versatile when it comes to pencil skirt patterns. Choosing a pattern with a strong taper from hip to hem will give the illusion of curve. Both wide and narrow waist bands work well on this frame, however if you have a short torso then opt for a narrow band to elongate the waist. The waist can hit anywhere from high (a few inches below the ribs) to low (an inch or two below the belly button), depending on what style you are going for. When choosing a fabric look for something on the stiffer side like brocade or broadcloth, this will help to hold the curve shape of your taper. This is also the perfect body type to play with embellishments like pockets, piping or jeweled waist bands.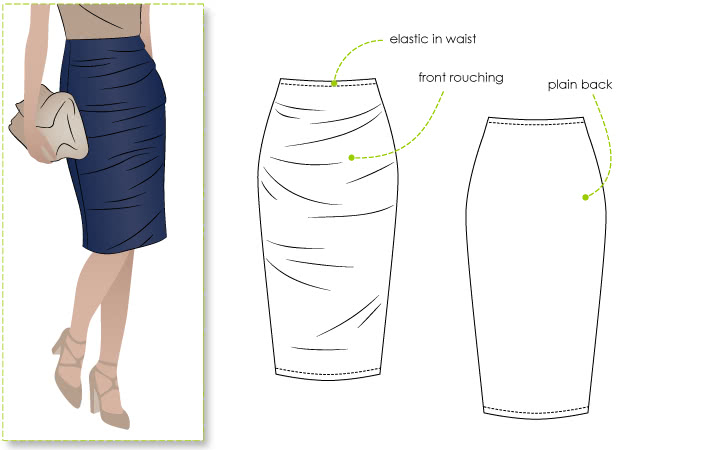 Thin waist with full hips:
With this classic hourglass figure it is best to choose a pencil skirt pattern with a gentle taper to follow and highlight the curvature of your hips. Wide and embellished waist bands are perfect to accentuate your thin waist, making sure the waist band hits at waist level will also help achieve this. Choose a medium weight fabric, a stretch bengaline would work well and may help to accentuate your curves. Avoid pockets as they may cause your hips to look bulky though piping around the waist band can be a simple and classic embellishment.
Thick waist with narrow hips:
The symmetry of a pencil skirt works wonderfully for this body type. Choose a pencil skirt pattern that has a slight taper. The waist band should be thick for added support with the top hitting at your natural waist level. Choose a medium weight fabric that falls well. A pattern or print at the bottom hem would be a wonderful embellishment.
Thick waist with full hips:
Perhaps due to its name, many women with this body type feel they can't pull off this design, but I disagree! It is simply crucial to choose the proper details. Opt for a pencil skirt pattern that has a slight to moderate taper, this is mostly dependent on your own comfort level and how much you want to accentuate your hips – the more moderate the taper the curvier your skirt will be. Choose a waist band that is wide and use a stiff interfacing, this will give you added support while adding smoothness to your silhouette; avoiding pockets will also help the skirt remain smooth. Choose a medium weight fabric that drapes but try to avoid stretch fabrics. Embroidery at the hem or an understated bow at the waist band would make good embellishments.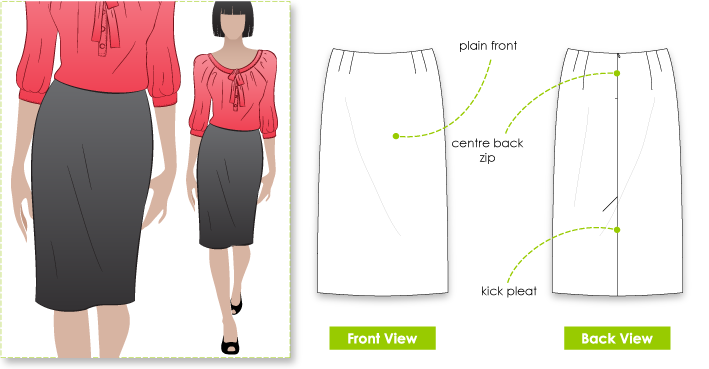 Full or Narrow Bust:
It is important to consider this aspect when choosing a pencil skirt pattern to reflect your own personal style. A higher waist will accentuate the bust line, bringing the eyes to that level while lower waist bands will draw the eyes away from the bust line.
Thin or thick calves:
Calf thickness and leg length are important factors in determining what length to look for in a pencil skirt pattern. If you have thin calves and short legs choosing a skirt that hits above the knee can elongate the legs. For thin calves and long legs any length will do, but one that hits mid calf would prove quite chic. The pattern that works best for calves that are thick would be a pencil skirt that hits at knee level or slightly above, regardless of leg length. It is best to avoid skirts that hit mid calf as this can cause your legs to appear bulky. A pencil skirt is a fabulous, classic option for so many occasions. They are simple and quick to sew making them the ideal project for any skill level. Whether you want to be sexy or chic and sophisticated, this skirt simply works! Happy Sewing!