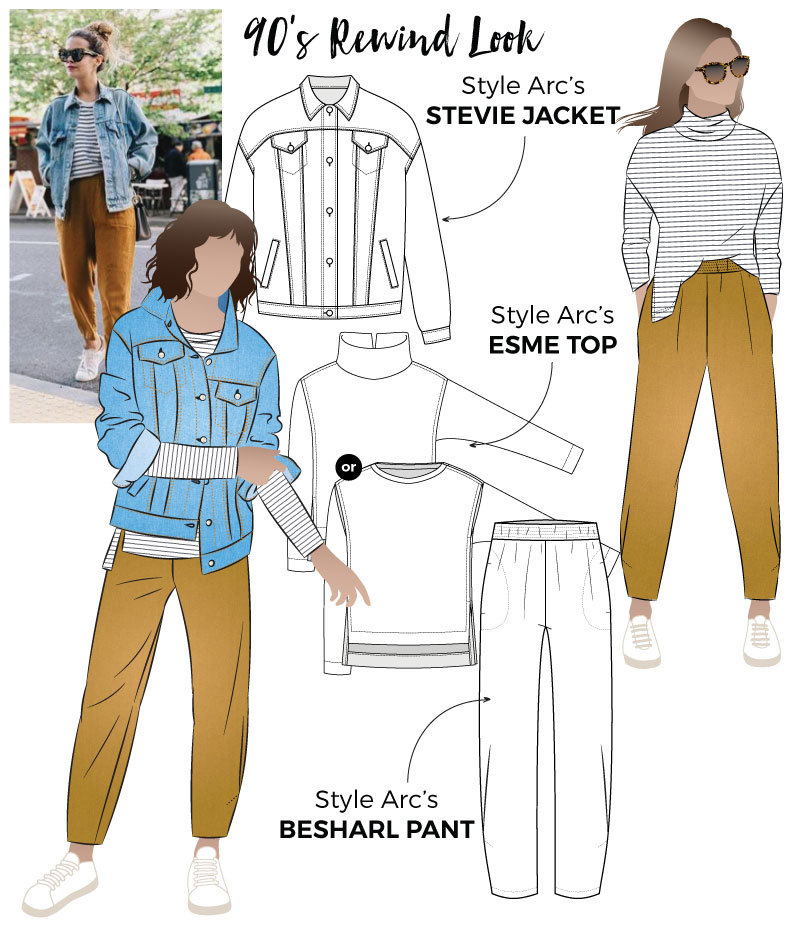 Sewing patterns from the 90's are back at Style Arc with this new Get the Look sewing pattern bundle! It's hard to believe that the 90's were over a decade ago! Over the last decade it was considered a sin to wear anything loose – everything was tight and body hugging! Finally, we are seeing the 90's trend of loose fitting garments emerge as we shout hallelujah and take a trip down memory lane.
For this 90's Rewind Get the Look discounted bundle (Paper or PDF) we have collated our essential pieces to help you rock the loose fitting 90's trend. You get three patterns in a discounted bundle!
Our Stevie Jacket gives a big nod to the 90's and is an essential piece to complete this look. The denim jacket is a fabulous piece to have in your wardrobe that will be on high rotation through the seasons depending on how you style it. If you prefer a pared down look you can size this jacket down – Remember it is oversized!
We have paired Stevie with our Esme Designer Top – you can add the collar for some warmth or leave it off, the choice is yours. This boxy drop-shoulder top is a fabulous trans-seasonal piece because you can also leave the sleeves off.
The Besharl Pant completes this comfortable 90's look. It's a pull-on pant with a slightly wider leg and interesting hem tuck detail. What is there not to love about this look? It's comfortable, on trend and easy. Here's hoping the 90's are back for some time yet!
WINTER FAVOURITES SALE
The temperature has dropped here in Melbourne (I know, it's nothing like what you guys in Canada have to deal with!), so to get you feeling warm and stylish we're having a 20% off SALE on our must-have winter favourites! Click here to check out the sale items!
We've included patterns like the Emery Knit Top, Brooklyn Top, Casey Coat and a whole lot more! The offer is available on both hard copy and PDF patterns only at stylearc.com!
Get in quick, the winter warmer sale ends Sunday!
STYLE ARC SEWING TUTORIALS ON YOUTUBE
We've started putting together a few sewing tutorials on YouTube. It's early days and there are only a couple listed. But we're hoping to work on more. Check them out here!
If there are any sewing tutorials or sew-alongs that you'd like to see, please let us know!
Until next time, happy sewing!