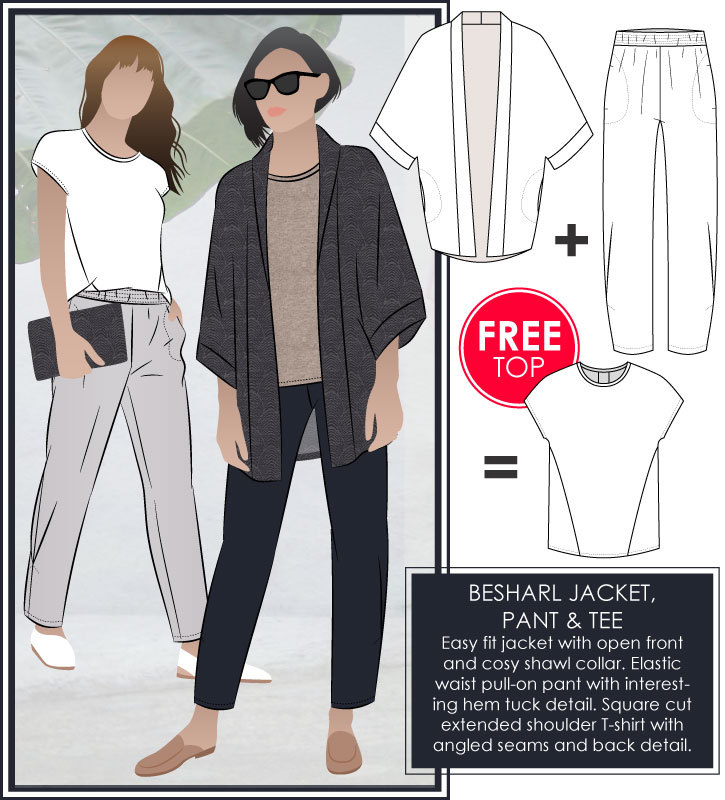 Today we're excited to launch a fabulous new outfit available as a discounted three-pattern sewing pattern bundle. The Besharl Outfit (available in paper or PDF) takes all the hard work out of choosing what to wear in the morning. The Besharl Jacket, Besharl Pant and Besharl Knit Tee can be bought separately, but if you buy them together as a discounted bundle (paper or PDF) the pricing works out so the Besharl Knit Tee is free!
Our Besharl Jacket (paper or PDF) is a classic wardrobe builder that has the flexibility to be worn casually or dressed up. Its cocoon shape and dropped hemline gives this shawl-collared jacket the fashionable robe-style look that is all over the internet right now. Our not so basic Besharl Knit Tee (paper or PDF) is that go-to tee that can lift a basic outfit to a wow look. The tee looks fabulous with a pair of aged jeans and it's perfectly matched within the Besharl outfit bundle. Last up is our new Besharl Pant (paper or PDF). It's a relaxed yet tailored style pull-on pant that cleverly combines style and comfort! We hope you love the new discounted Besharl outfit bundle as much as we do!
Until next time, happy sewing!