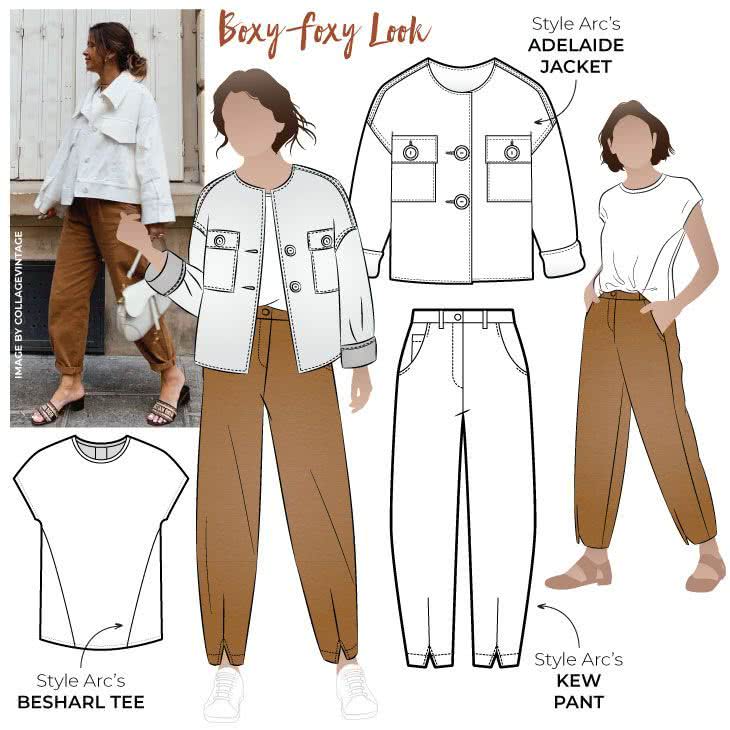 As the is world practising self-isolation and social distancing amid the COVID-19 pandemic, the sewing community now have a real excuse to self-isolate in their sewing room. With no one bothering you or telling you to stop sewing, this is your time to raid your stash and sew until your heart's content!
If you are looking for something new to sew or you want to challenge your sewing skills, then look no further than our latest discounted pattern release, our PDF Boxy Foxy Look, where you get 25% off three great patterns! Starting with our Adelaide Woven Jacket, as the name suggests is a boxy fit that can be made with or without the lining. With optional inseam or patch pockets this jacket can look casual or dressy depending on your fabircs and how you choose to finish it. Moving on to our Besharl Tee, this is a great basic with a point of difference. The extended shoulder line creates the appearance of a short sleeve and the interesting angled front seam replaces the side seam. To complete your Boxy foxy look we selected our recent release the Kew pant. With its slight rounded shaped leg that narrows at the hem opening and its dart and front split, this pant is a great designer pant with a unique look. Designed to be worn both casually or dressed up Kew, is a great everyday pant to own. The pattern bundle is available in PDF single size or PDF multi size only.
IMPORTANT ANNOUNCEMENT CONCERNING COVID-19

In case you missed our last newsletter sent 23 March 2020, due to the fast changing COVID-19 situation in our home town of Melbourne Australia, we have no choice but to cease sales of physical patterns, fabric and other products that require physical shipping from our website. Due to government health requirements very soon we will be unable to print and fulfil these orders and we do not want to disappoint you! Unfortunately we do not know how long this will last. Please read on as there are some other options to get hard copy patterns to your door.
Printing PDF Paper Patterns

Not everyone wants to stick pattern tiles together! For those of you who don't, there are plenty of printing businesses around the world that can print your wide format PDF pattern files. We reached out to our sewing community and came up with a list of printing businesses who have helped print Style Arc PDF patterns for our customers. Check them out here. Please keep in mind that some of these business might be struggling with the COVID-19 crisis and their trade might be impacted. If you have printed Style Arc patterns at a business near you, please let us know! We will add them to the list.
How to Get Style Arc Paper Patterns During the COVID-19 Pandemic?

Still after paper patterns? Amazon is still shipping Style Arc multi-size paper patterns but we're not sure how long that will last. Things are changing very quickly right now! We're not currently able to send new stock but there are Style Arc patterns available from the following Amazon sites USA, Canada, UK, France, Italy, Spain, or the Netherlands.
Note that if you're not in Europe, the European Amazon links may not work.
You can also try our network of Style Arc stockists all around the world.
Until next time, stay safe and healthy!
Style Arc team