This collar sewing tutorial will help you when sewing blouses, shirts and shirt dresses. This is basic Style Arc sewing tutorial covers how to sew a collar to a collar stand and a collar stand to a neckline. Follow the steps below to make the perfect collar!
Step 1
Lay collar pieces face-to-face and stitch around the outer edge of collars. Trim corners 2 mm from stitching line to reduce thickness.
Turn to face (bag out), press and top-stitch.

Step 2
Press lower edge of outer collar stand upwards to secure seam allowance.

Step 3
Place collar between collar stands and stitch together.

Step 4
Turn to face and press neatly.

Step 5
Pin lower edge of collar stand to neckline, matching notches. Then stitch collar to neckline.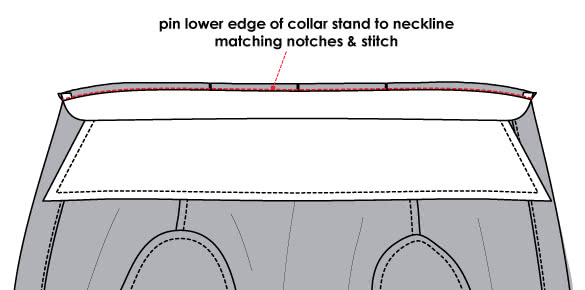 Step 6
Turn to face, tuck seam allowances into collar stand and press. Then top-stitch around collar stand 3 mm from the edge, making sure that lower folded edge of the collar stand is caught in the seam. For a clean /classic look, sink-stitch (stitch in the ditch) along the neckline seam to connect the lower collar stand.

Step 7
Press your finished collar.