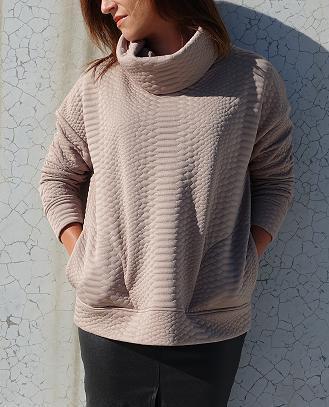 Gorgeous New Brooklyn Bundles
We've found some gorgeous textured "reptile" jacquard knit fabric for you in mocha and black! The double knit jacquard has the qualities of a cosy Ponte knit fabric but with a textured finish. The fabric has ever so slight wadding stitched in to create a unique pattern. It works perfectly for the Brooklyn Knit Top, so we thought why not offer it as a fabric and pattern bundle? You get all the fabric you need to construct your Brooklyn Knit Top and the pattern in a single purchase. The pricing works out so that you get the pattern for free! Check out the Black Brooklyn Fabric Bundle here, or the Mocha Brooklyn Fabric Bundle here. If you don't need the pattern, we're also selling the knit jacquard fabric separately in black and mocha colours.
New Downloadable PDF Patterns
For those of you who have been waiting, our new March 2017 patterns are now available in digital PDF form for immediate download on our Etsy Store. Check out the gorgeous Savannah Knit Top (pictured above) here, or the sophisticated Lux Coat here.
Until next time, happy sewing!