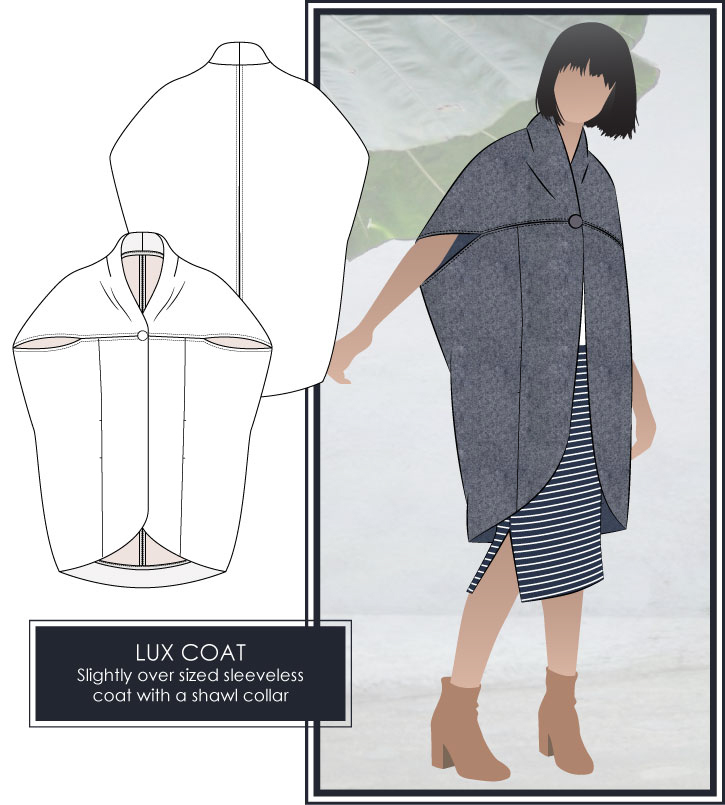 Introducing the Lux Coat sewing pattern. Is it a cape-style coat? Is it a trans-seasonal coat? Is it a cocoon-shaped coat? The Lux Coat is all of these and more. This new sophisticated coat pattern is clever in its simplicity. The tucked neckline creates an interesting shawl neckline, and the in-seam button simplifies the construction. Think wool Melton, bouclé or cashmere for this one, but even a gorgeous ponte would work too.
March 2017 Freebies
As we do every month, we offer our free pattern of the month with every purchase but only when you purchase from www.stylearc.com. This month you can choose between two free patterns – our new Savannah Knit Top or the perennial favourite, the Fiona Top. The freebie patterns change every month.
The Savannah Knit Top is new for March 2017. This gorgeous top has rounded hems and an interesting wrapped shoulder detail. There are plenty of ways to show off your creativity with this style. Why not use a plain knit for the body and sleeves and a woven printed silk for the hem facings? You could also turn back the hem on the sleeve to reveal a gorgeous contrast print. Your other choice of freebie is the Fiona Top. This dolman sleeve cardi is such a versatile piece to add to your wardrobe. Wear the neck band up, or fold it over to create a shawl collar. Remember this offer is only available at www.stylearc.com.
Until next time, happy sewing!