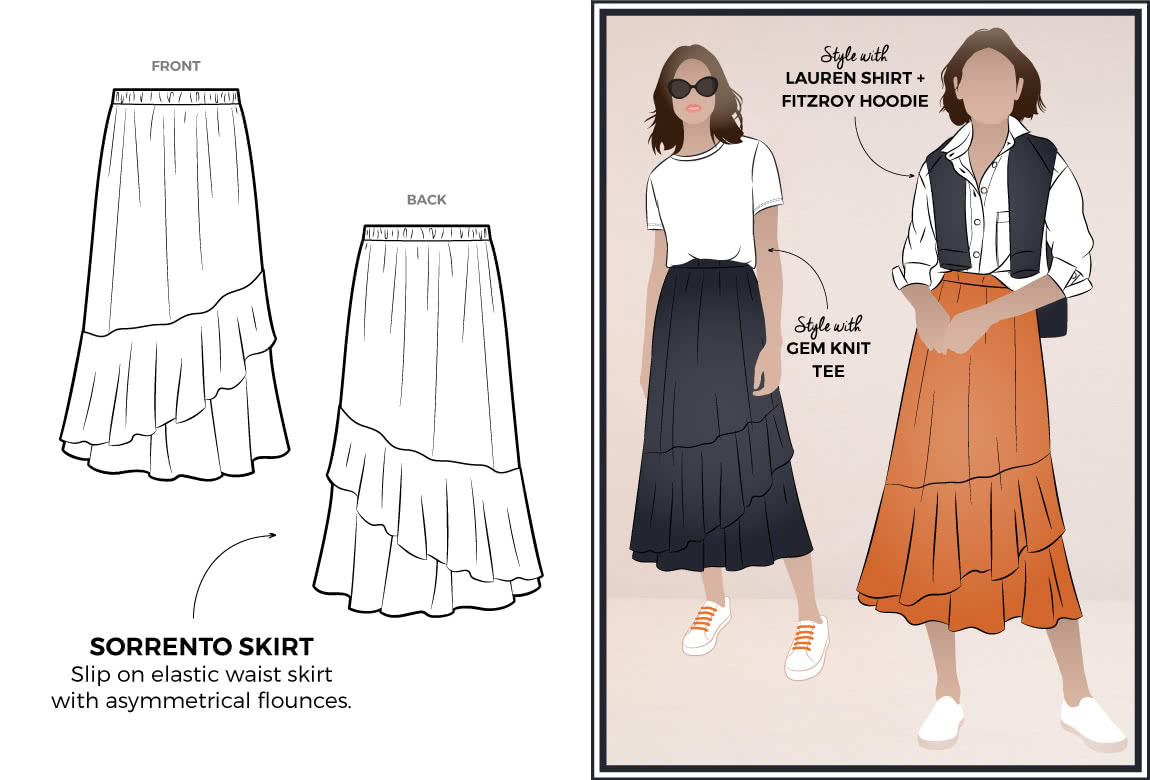 Introducing our latest women's sewing pattern release the Sorrento Skirt. Built for comfort with its elastic waist, this skirt can be paired back with many basic top options in your wardrobe because the detail is all in the skirt. Featuring a relaxed boho look with asymmetrical flounces this whimsical skirt looks fabulous with a white tee, denim jacket and your favourite white runners. For a more sophisticated look when the weather cools down, the Sorrento Skirt will look lovely paired back, with a basic black turtle neck skivvy, jacket and ankle boots.
Sorrento is available in the following formats: Hard Copy Single Size, Hard Copy Multi-size, PDF Single Size and PDF Multi-size.
Do not forget that every month at Style Arc we offer two freebie patterns to choose from but only when you shop at www.stylearc.com Here are some steps to follow to assist you in gaining your freebie:
Shop as usual. When adding a pattern to your cart, make sure to select your size before clicking 'add to cart'.
To add a freebie to your cart, please revisit the home page by clicking on our logo at the top of whatever page you are on. Once on the home page, you will see the two freebie options at the top of the page. Choose one freebie and follow the same procedure as you did above for adding items to your cart, making sure the pattern formats are the same for your order and freebie.
When you have finished your shopping, click 'view cart' at the top of the page. This will display all the items you have in your cart, including your selected freebie, which will still display the non-discounted price. Scroll down to the bottom of the page until you see a green coupon code on the left-hand side of the page. Click on the coupon box and this will apply the coupon and deduct the price of the freebie from your cart. Proceed to the checkout and continue through the process to make payment.
There it is! Simple! Please note that only orders with a freebie pattern included in their completed transaction will receive them. So please make sure you pop that freebie into your cart and use the coupon as previously mentioned.
With under two weeks remaining you can choose from either the Coral Cardigan or the Fitzroy Hoody. Which will it be?